exci in action. exci uses artificial intelligence to identify fires in rapid time
In summary
Swinburne alumni Gabrielle and Christopher Tylor have developed a smoke alarm for the bush – exci
The startup could save Australia $8.6 billion over the next 30 years in disaster response by detecting bushfires in rapid time
The co-founders and Directors are supporting two significant UN Sustainable Development Goals – Climate Action and Life on Land
Global Goals Week is taking place from 16-25 September – a week aimed at mobilising communities, demanding urgency, and charging solutions for the United Nations' Sustainable Goals (SDGs).
To celebrate the week, we are highlighting the actions the Swinburne community is taking to support these goals.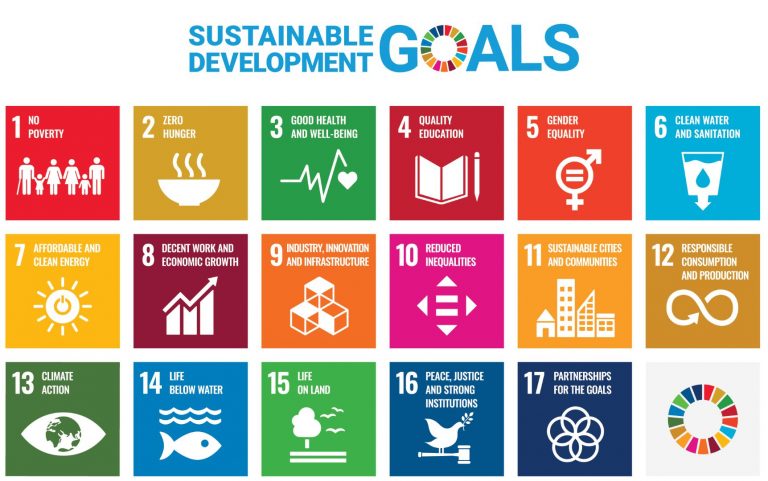 The United Nations 17 Sustainable Development Goals
Meet alumni Gabrielle and Christopher Tylor – they've created a smoke alarm for the bush
Gabrielle and Christopher Tylor are Swinburne alumni, co-founders and Directors of exci, a commercial early bushfire detection system.
In 2020, they, along with neighbours in Peregian Beach on the Sunshine Coast, were in danger of being forced out by bushfires which lead them to develop exci. 
Exci Co-founders and Directors Gabrielle and Christopher Tylor
exci is playing a significant role in supporting Sustainable Development Goals 13 (climate action) and 15 (life on land).
The pair have developed a program that has been deployed globally and monitored over 125 million acres of land, from Mexico to Canada and parts of Australia. Using Artificial Intelligence (AI), exci can detect bushfires as quickly as one minute after ignition, compared to the usual detection time of 90 minutes.
exci's early wildfire detection system is powered by proprietary deep machine learning algorithms that detect bushfires automatically within minutes after ignition by analysing data from ground-based cameras and satellites for the presence of smoke and heat. If exci's AI detects a fire, reports are immediately presented to the relevant users, such as farmers, plantations, forestries, vineyards or fruit orchard owners. 
Fighting the climate crisis
As climate change intensifies, bushfires will become more frequent, intense and severe, having extreme and lasting impacts on life on land as we know it. 
According to the UN Environment Programme (UNEP) and GRID-Arendal report, extreme wildfires are expected to increase up to 14 per cent by 2030, 30 per cent by the end of 2050, and 50 per cent by 2100 due to climate change and land-use change. 
Experts say the damage will occur extensively across lands; impacting people, homes, wildlife, businesses, tourism, food and crop sources as well as killing the best carbon sequesters: trees.
However, promising insights and data are indicating that AI could be the drawcard for helping tackle not only climate-related issues but several of the UN's Sustainable Development Goals.
exci's propriety AI uses deep learning algorithms which have been trained on large data sets with over one billion images per year from ground-based cameras and over 500,000 satellite images to achieve high accuracy and speed in recognising and raising the alarm about new fires.
Christopher Tyler said the program is the only early wildfire detection system that has been proven in large-scale deployments, with more than 800 cameras in California (over 125 million acres) and commercial deployments in Australia (over 2 million hectares of forestry and plantations).
"Reports from California indicated that the system detected 66% of fires within a minute, 95% within 5 minutes, and nearly 100% within 10 minutes with a false positive rate to the customer of under 0.2%," Mr Tylor said.
Mr Tylor also said independent research from the Australian National University found exci's early detection system could save Australia $8.6 billion over the next 30 years in disaster response.
Already in talks with all levels of Government in Australia and other key stakeholders, the team at exci have satellites in place to detect fires and to notify the emergency services.
Swinburne alumni making a global difference
Christopher and Gabrielle are finalists for the 2022 Swinburne Alumni Impact Awards.
They are currently nominated for the Innovative Planet Impact Award – a Swinburne alum whose exceptional endeavour has resulted in a significant impact on local and/or global environmental sustainability. 
Christopher graduated with a Master of Science (Astronomy) and Gabrielle graduated with a Bachelor of Social Science (Psychology). 
by Swinburne University of Technology
media@swinburne.edu.au
19 September 2022