Wildfires pose an ever-increasing threat to our social, economic, and environmental well-being, demanding immediate and unified action. Countries worldwide have borne the brunt of these devastating wildfires, resulting in the loss of human and animal lives, as well as vast expanses of forests. Alarming predictions from the UN Environment Programme report indicate a 50% rise in wildfires by 2100, leaving governments ill-prepared for the impending crisis.
However, there is hope on the horizon in the form of artificial intelligence (AI) algorithms and end-to-end fire management systems. The intersection of AI and wildfire management has seen a surge in research, presenting promising opportunities for tackling pre-, intra-, and post-wildfire events.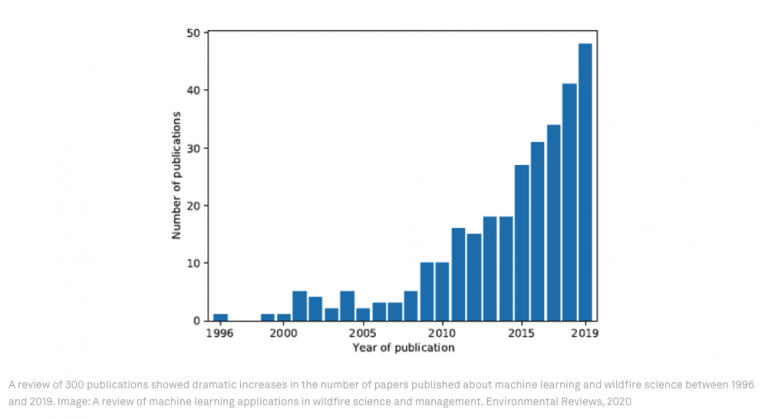 AI and Wildfires: A Promising Alliance
In this critical era of escalating wildfires, it is imperative to develop innovative solutions and cutting-edge technologies such as exci's early wildfire detection system for wildfire disaster management. To effectively combat wildfires, we require comprehensive systems for fire prevention, forecast and detection, risk and response management. This time-sensitive process necessitates the rapid exchange of information and on-the-spot decisions, making the digitization of fire data and leveraging AI technologies indispensable.
"

The escalating number of wildfires worldwide renders it necessary to develop innovative solutions and novel technologies.

"
— Sarkar, Altiok & Soyler
Unveiling the Potential of AI: A Fire Management Revolution
The integration of AI algorithms in wildfire management has been an ongoing endeavor, but a more interconnected approach is needed. AI, combined with various high-resolution data sources like digital maps, satellite imagery, real-time weather data, sensor networks, and social network posts, allows for advanced fire behavior forecasting and smoke detection. Integrating these systems with IoT sensor data and terrain maps improves fire detection and fire spread algorithms. Furthermore, natural language processing algorithms can process social network data in real-time to identify fire sightings or fire conditions. Additionally, novel reinforcement learning algorithms can be utilized to power automated air and land devices for wildfire management.
A Smart Framework: Paving the Way for Effective Wildfire Control
The key to effective wildfire management lies in the integration of all these systems and algorithms to create a smart framework. This framework should include a dynamic wildfire risk map, an interactive fire spread simulation, and a decision support system for disaster response and resource allocation.
FireAId Project: Empowering Global Cooperation for a Safer Future
The World Economic Forum's FireAId Project is spearheading the use of AI to develop a dynamic risk map, optimize resource allocation, and propose responses to wildfires. To foster global technological collaboration and knowledge exchange in fire management, the project is building a multi-stakeholder community consisting of experts from diverse disciplines worldwide.
Empowering AI-Driven Solutions
The success of AI-powered wildfire management relies on three key tools [see p.36/formerly Fireball.International's (now exci):
Data: The accuracy of fire behavior models is directly linked to high-resolution and accurate input data. Integration of various data sources like NASA, Google Earth Engine, and NCAR is necessary, along with data digitization and standardization to enhance effectiveness.

Algorithms: Continuous progress in developing wildfire modeling algorithms is crucial, especially with advancements in accurate and higher resolution data. Specialized algorithms, such as night vision during fires, will further bolster firefighting efforts.

Knowledge Share: A decentralized approach is essential to address the current wildfire threat level. Open-source data repositories and fire models with global user contributions will facilitate collaborative efforts.
Tackling Wildfires as a Unified Front
Considering wildfires' transnational nature, global collaboration among all stakeholders is vital to effectively manage and mitigate their impact on human health, livelihoods, biodiversity, and the climate. Wildfires should be treated on par with catastrophic earthquakes and floods in terms of global humanitarian response. Diverse collaboration among international and regional organizations, national governments, fire knowledge, and fire management organizations is necessary to tackle this pressing global challenge.
The use of AI in wildfire management offers a beacon of hope in the face of an escalating crisis. By embracing global collaboration and harnessing the power of AI algorithms and integrated systems, we can take proactive steps to safeguard our environment, communities, and the world from the destructive impact of wildfires. A unified approach is the key to success, and with collective efforts, we can combat wildfires and build a safer, more resilient future.
Don't let hazardous events become catastrophic!
Get in touch with our friendly team who are happy to give you a full demonstration of how exci's system detects wildfires within minutes and can help you to protect your assets and community:
Australia:
Phone: 1300 903 940
International:
Phone: +61 458 594 554
email: info@exci.ai:
Visit us on our website and find out more https://www.exci.ai/
by Gabrielle Tylor
exci – The Smoke Alarm for the Bush