"Satellite companies are turning to cloud to create digital operations centers or transition their existing operations. Cloud capabilities like high performance computing helps engineers streamline satellite design, development, and simulation, which allows them to continue product development and testing from anywhere," says Maj. Gen. (Retd.) Clint Crosier, Director, Aerospace and Satellite Solutions, Amazon Web Services, in an exclusive interview with Geospatial World. 
What has been the impact of COVID-19 on Space and Earth Observation industry in particular?
COVID has accelerated digital transformation across aerospace as well as many other industries, putting us years ahead of where we otherwise expected to be on that journey. As organizations pivoted quickly to respond, they have adopted Cloud to power remote work, telehealth, and distance learning. As a result, Cloud computing is moving faster than ever before, pushing collaboration and communication at scale.
In the satellite industry, customers are seeing the increased value of Cloud to collaborate, streamline operations, and grow and scale in response to evolving customer needs. One benefit of the AWS Cloud is its global network, which allows satellite customers to access their data when and where they need it most. Global connectivity enables global collaboration and global response.
One AWS earth observation customer, exci can detect potential wildfire outbreaks and inform first responders within three minutes of smoke detection. The organization was founded in February 2020, just before the COVID pandemic struck. Using AWS, EXCI has been able to build an incredibly efficient wildfire detection platform that processes more than 2.5 million images and over 30 GB of satellite data each day with an amazingly high degree of accuracy. This type of early detection and assessment can save lives and communities.
Many satellite companies are turning to Cloud to create digital operations centers or transition their existing operations. Cloud capabilities like high performance computing help engineers streamline satellite design, development, and simulation, which allows them to continue product development and testing from anywhere. It's clear that the rapid innovation we see happening across the industry will require a skilled workforce to sustain. That's why AWS is supporting our customers' long term needs for digital skills training. In August 2021 last year, we doubled AWS re/Start program's global presence. AWS re/Start is a free, 12-week program that prepares unemployed or underemployed individuals for careers in cloud computing.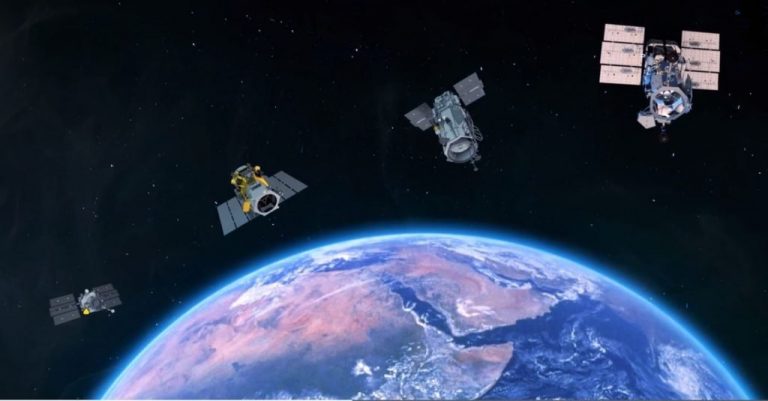 Satellites are being used by more and more businesses, universities, and governments for a variety of applications. AWS is helping lower this entry barrier with AWS Ground Station.
The past two years have seen many big-ticket initiatives on Space policy across countries. How do you view the policy environment going forward?
Due to the global nature of the Space industry, collaboration is imperative for long-term success. We're seeing countries coordinate on Space policy around Space exploration initiatives. International agreements and partnerships can help to provide a safe environment for all nations to explore and use outer Space. For example, as of January 2022, 16 countries have signed on to the Artemis Accords, an international agreement between governments participating in the Artemis Program, a NASA-led program to return humans to the Moon by 2025.
In this same spirit, AWS has developed statements of strategic intent with several countries, which so far include Greece and Singapore. AWS is committed to supporting government and commercial customers around the world to achieve their Space goals. These international agreements include specific initiatives designed to support the growth, education, training and experience of professionals in the aerospace community.
We also recently announced Licensing Accelerator, a new feature for AWS Ground Station customers. AWS Ground Station is a managed service that lets customers control satellite communications, process satellite data, and scale their satellite operations. Licensing Accelerator — which is free of charge — removes the guesswork out of the spectrum licensing process and provides a guide that satellite operators can use to more efficiently secure the spectrum licenses they need for their operations and missions. AWS Ground Station customers simply onboard to Licensing Accelerator, answer a few questions, and then they get a customized step-by-step guide with consolidated checklists plus links to free resources for their licensing needs. Leveraging the latest centrally located information provided by Licensing Accelerator, customers can launch and scale their spacecraft operations faster, mitigate launch delay risks, and reduce their capital spend.
There has been a lot of focus on technology innovation in Space infrastructure in recent times, owing to the realization that beyond launching satellites, we need to have better infrastructure to reap the real benefits from all that data these satellites collect. Could you elaborate on how AWS has been at the forefront here, and what are the key technology trends in this sphere?
Satellites are being used by more and more businesses, universities, and governments for a variety of applications, including weather forecasting, Earth imaging, and communications. Till today, customers must build or lease ground antennas to communicate with the satellites. This is a significant undertaking and cost because customers often require antennas in multiple countries to download data — when and where they need it — without waiting for the satellite to pass over a desired location. And the antennas are just the beginning of the infrastructure requirements: customers need servers, storage, and networking in close proximity to the antenna to process, store, and transport satellite data from the satellite, plus business workflows to organize, structure, and route the data before it can be used. This activity requires significant capital investments and operational costs.
AWS is helping lower this entry barrier with AWS Ground Station, which lets customers control satellite communications, process data, and scale their operations without having to worry about building or managing their own ground station infrastructure.
With AWS Ground Station, customers have direct access to AWS services and the AWS Global Infrastructure including a low-latency global fiber network. Customers pay only for the actual antenna time used, and can rely on the global footprint of ground stations to download data when and where they need it.
Virtualized ground networks such as AWS Ground Station help customers uplink their space data directly into the cloud faster, and then process and transport that data around the world with low latency and a high level of security. This allows customers to reduce data processing and analysis times for use cases like weather prediction or natural disaster imagery from hours to minutes or seconds.
One of our customers, Capella Space, runs their entire IT infrastructure on AWS to automate and scale its operations, including satellite command and control using AWS Ground Station.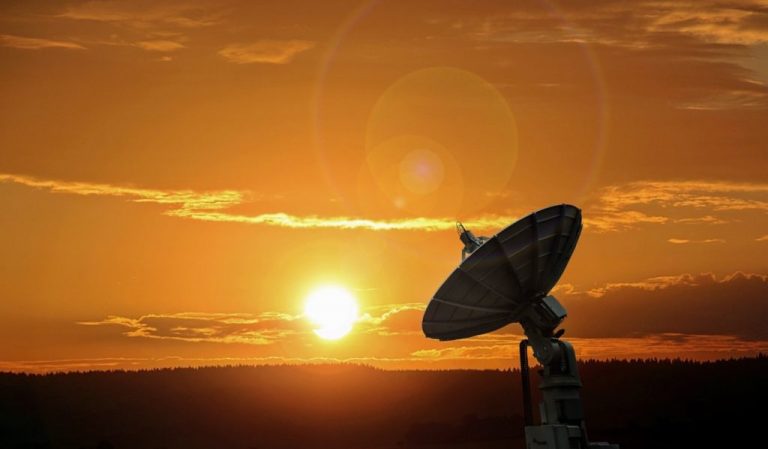 AWS Ground Station is a fully managed service that enables you to control satellite communications, process satellite data, and scale your satellite operations. With AWS Ground Station, you don't have to build or manage your own ground station infrastructure.
Cloud computing and 4IR technologies like artificial intelligence (AI) and machine learning (ML) have also led to democratization of Space data and platforms. How is it leading to harnessing more actionable insights, and more quickly, from geospatial data in providing near-real time location services?
The most effective way to gain fast insights, get answers, and make decisions using Space data is with advanced cloud technologies like AI and ML. We see a wide variety of customers and partners applying AI and ML to quickly sort through large volumes of images and other Space data to pinpoint relevant information.
These companies are using Space data to solve increasingly complex challenges and gain more accurate, in-depth intelligence. Often this means combining satellite data with AWS machine learning and a variety of other data sources to gain the accurate insights their customers seek.
For disaster response purposes, AWS AI and ML tools applied to satellite imagery help provide accurate insights that help first responders make decisions faster.
The maritime industry also leverages AI and ML-informed data to help monitor ship activity, monitor wildlife health track illegal fishing and, alert authorities of smuggling or ship-to-ship transfer of goods.
The ever increasing focus on sustainability has also led to a lot of discussion around global warming, and the use of EO for climate monitoring and climate change mitigation. How do you view these developments?
Space data gives us detailed information about our planet that we can only get from the vantage point of Space. Advanced Cloud tools and resources such as the Registry of Open Data on AWS provide valuable access and collaboration capabilities to a variety of organizations looking to study, understand, and protect our planet.
This information can help us improve life here on Earth. For example, scientists can study catalogues of satellite imagery to track changes in coastal erosion over time, or download information from orbiting satellites in real time to respond to flooding and severe storms. Government organizations, nonprofits, and commercial startups around the globe are using earth observation to help monitor extreme weather, safeguard water supplies, measure greenhouse gas emissions, improve crop yields, and more.
Through the Amazon Sustainability Data Initiative (ASDI), AWS is storing petabytes of satellite data through to support Digital Earth Africa, at no cost to the project. Today, Digital Earth Africa is the world's largest open data cube for accessing and analyzing decades of satellite imagery of Africa's lands and seas running on AWS. The information is delivered in ultra-high-definition within minutes of data capture — 800% faster than before.
These sorts of insights are enabling prompt government environmental policy changes.
Digital Earth Africa provides African governments, NGOs, businesses, and communities with ready-to-use information to address social, environmental, and economic challenges across the continent. For instance, the people of Zanzibar are using satellite imagery available through Digital Earth Africa to save Mangrove forests, reverse coastal erosion, and slow climate change.
Vigorous public-private sector collaboration is one of cornerstones of the New Space ecosystem. How do you view it from a commercial profitability perspective. Also, what are some of innovative partnership and collaborative models that you emerging out of this churn?
Building upon our strong relationships with our public sector customers, AWS sees tremendous opportunities to collaborate. We believe that the future of Space is data driven, and that advances in Space will continue to be driven largely by innovation and best practices from the commercial Space industry. And we believe the commercial Space industry will largely be driven in the future by cloud technologies.
We see NASA continuing to encourage collaboration opportunities for a variety of applications including exploration to the Moon and Mars. Other parts of the U.S. Government, such as the U.S. Space Force, are also looking to transition satellite control networks to commercial providers. And around the globe, we see governments continuing to increase the amount of commercial Earth resources data they purchase. We expect these sorts of collaborations in the Space sector to continue.
AWS can help to enable our government customers to rapidly develop effective solutions by connecting them through our vast AWS Partner Network. Aerospace and satellite partners play a critical role in Space-based innovation, working closely with governments and commercial customers across the world. The AWS Partner Network is designed to connect customers with the tools, technical expertise and resources that they need.
Rapid advancements in technology have widened the gulf between technology and user industry expectations. Is it apt to say that technology developments are outpacing customer demand and uptake?
Over the past decade, the Space landscape has changed dramatically, creating an enormous need for innovation. At AWS, 90 percent of what we build is a result of what customers ask for. We are constantly innovating along with them.
by Anusuya Datta
March 9, 2022