In the wake of the devastating Black Summer that swept through the east coast of Australia, the Sunshine Coast Council is taking proactive steps to safeguard its community from the ever-present threat of bushfires. The council is turning to Artificial Intelligence (AI) for assistance, and their weapon of choice is the innovative technology provided by the Australian Made and Owned Sunshine Coast company exci. The cutting-edge AI technology analyses imagery of cameras and satellites for the presence of smoke and heat to detect fires in their early stages, providing crucial alerts to emergency services. 
Learning from the Black Summer
The decision to adopt exci's bushfire detection system comes in the aftermath of the catastrophic bushfires that engulfed the region, with the Peregian fires in September 2019 serving as a grim precursor to what became known as the Black Summer. This devastating period highlighted the urgent need for advanced technology to combat bushfires effectively.
AI Steps In
Mayor Mark Jamieson, acknowledging the evolving threat posed by climate change and the El Niño weather pattern, has directed the council's attention towards harnessing the power of Artificial Intelligence. In previous summers, the focus was on storm and flood risks, but the Bureau of Meteorology's prediction for this summer underscores the looming danger of heatwaves and severe bushfires.
The collaboration between the Sunshine Coast Council, Queensland Fire and Emergency Services (QFES), HQ Plantations, Powerlink, exci, and Landwatch Australia has resulted in the implementation of the early bushfire detection system. Mayor Mark Jamieson, who also serves as the Chair of the Local Disaster Management Group (LDMG), emphasised that the council's primary concern is the safety of its communities, and exci's advanced system will play a pivotal role in enabling rapid responses to bushfire threats. He made the announcement during the launch of Get Ready Queensland Week, which aims to encourage residents to understand their risks, prepare emergency plans, and assemble essential emergency kits.
Local Disaster Management Group (LDMG) Chair and Sunshine Coast Council Mayor Mark Jamieson, is shown how the bushfire detection system works by exci's Account and Product Manager.
Rapid Response: A Critical Advantage
Mayor Jamieson emphasized the critical role that rapid response plays in mitigating bushfire incidents, highlighting that timely action can mean the difference between a minor, easily contained fire and a major blaze resulting in extensive destruction.
exci's Managing Director, Christopher Tylor, sheds light on the technology's capabilities. The exci system leverages powerful machine-learning algorithms to automatically detect bushfires within minutes by analysing satellite and ground-based camera data for the presence of smoke and heat.  When a fire is detected, immediate reports are sent to relevant users, including first responders and asset owners. This swift response can make all the difference, potentially containing minor incidents before they escalate into major bushfires, minimizing the risk of extensive destruction. Derived from the Latin word for "alarm," exci has already proven its technology in wildfire-ravaged California, establishing itself as a world-leading tool in the battle against bushfires.
Local Expertise Collaboration
Further strengthening the initiative, exci will collaborate with Landwatch Australia, a family-owned business located in Palmwoods. Landwatch Australia is renowned for delivering remote, camera surveillance solutions to Australian farmers and rural communities. Their expertise in crafting terrain-specific camera systems aligns seamlessly with exci's wildfire detection technology. Together, they will be installing cameras at new sites located at Gerrards Lookout at Maleny, Dulong Lookout, and Mount Coolum, extending the reach and effectiveness of the early bushfire detection system. Their shared commitment to enhancing the safety of Australian communities drives this collaborative effort.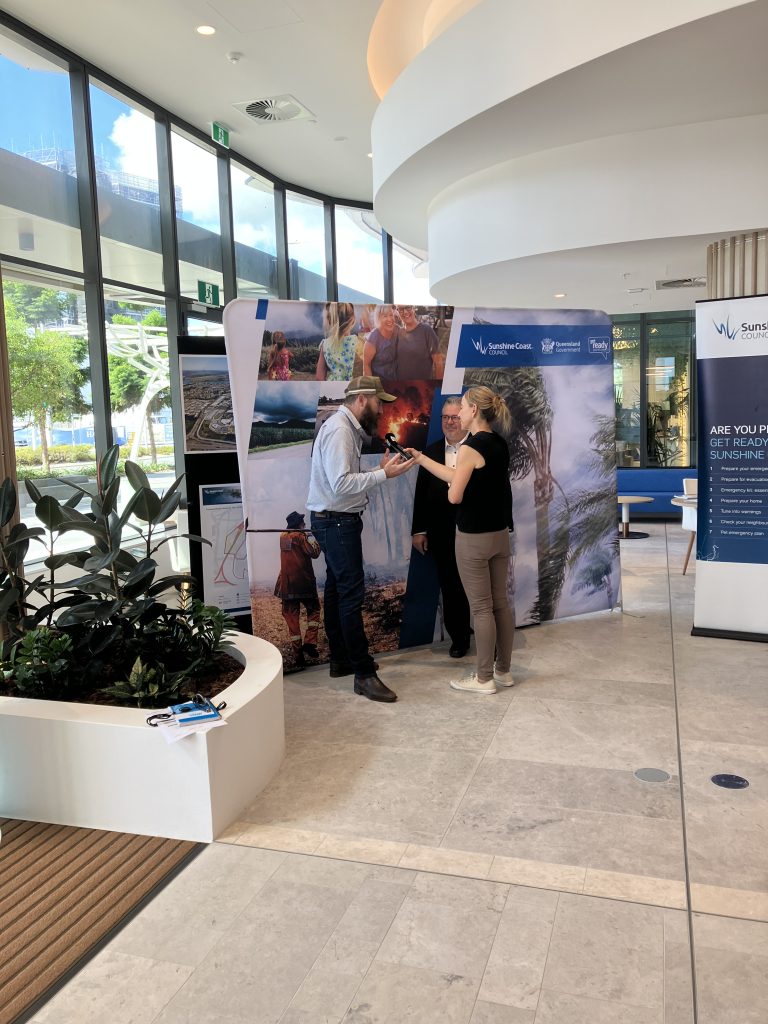 exci & Land Watch in collaboration keeping an eye on the Sunshine Coast Community
A Community Committed to Preparedness
The Sunshine Coast Council remains steadfast in its commitment to working closely with Disaster and Emergency Services to ensure a coordinated approach to disaster management and community support. Preparedness is a shared responsibility, and the "Get Ready" campaign serves as a timely reminder for individuals to take proactive steps to safeguard their families, homes, and businesses.
Key Preparedness Steps:
By adhering to these straightforward steps, residents contribute to creating a safer and more resilient community. For additional information, including a comprehensive list of preparedness tips, visit getready.qld.gov.au.
Stay informed and access the latest updates, practical resources, and emergency guidance by visiting disasterhub.sunshinecoast.qld.gov.au. Together, we can ensure the Sunshine Coast remains vigilant and well-prepared in the face of potential bushfire threats.
Building Resilient Communities with exci's AI Early Warning System!
Sunshine Coast Council, QFES, Police, and supporting Innovation by utilising exci's bushfire detection system to build Community Resilience
The Sunshine Coast Council's decision to embrace AI-driven technology to combat bushfires is a significant step forward in ensuring the safety of its residents and environment. The devastating experiences of the Black Summer have taught valuable lessons, and exci's early bushfire detection system, powered by AI, promises to be a crucial tool in safeguarding the region against the growing threat of bushfires. As we move into this summer season, we can take comfort in knowing that advanced technology stands ready to protect the Sunshine Coast.
exci's first fire detection at Gerrard Lookout
exci's first fire detection at Dulong Lookout
Don't let Hazardous Events become Catastrophic!
Get in touch with our friendly team who are happy to give you a full demonstration of how exci's system detects wildfires within minutes and can help you to protect your assets and community:
Visit our website at https://www.exci.ai/ to learn more and take the first step towards a safer and more resilient future. 
by Gabrielle Tylor
exci – the Smoke Alarm for the Bush
AI-Assisting Firemanagement Tool
9 October 2023