Image source above: World Resources Institute https://www.wri.org/insights/6-graphics-explain-climate-feedback-loop-fueling-us-fires
Issue date of the following article: 13 February 2023
In orbit, in the air or even on the ground, photonics technologies give us a precise big picture on climate change, discovers Ben Skuse, author of the article "Lasers and sensors offer bird's eye view on climate change.
First, I would like to shout out a big THANK YOU to Ben Skuse who wrote about exci's Early Wildfire Detection System in the Electro Optics Magazine and gave permission to repost his article. Ben is a professional writer who is passionate about all things science and therefore loves to write about everything that promotes scientific and human understanding. Here is his website: https://benjaminskuse.wordpress.com/.
The complete original article can be found here: https://www.electrooptics.com/feature/bird-s-eye-view-climate-change
Please read the following excerpt from the above-mentioned article about exci's early wildfire detection system:
…
Commercial climate monitoring from above
Space agencies are not the only organisations monitoring climate indicators from space. For example, some companies are exploiting satellite imagery to detect and stamp out wildfires before they cause widespread devastation and release millions of tonnes of CO
2
into the atmosphere. A primary emission source and indicator of climate change, recent years have seen unprecedented wildfires cause havoc across the world, from the Arctic to the Amazon.
With wildfires contributing 5-10% of annual global CO2 emissions
, more frequent and intense blazes due to climate change have a feedback effect, where the results of warming produce yet more warming.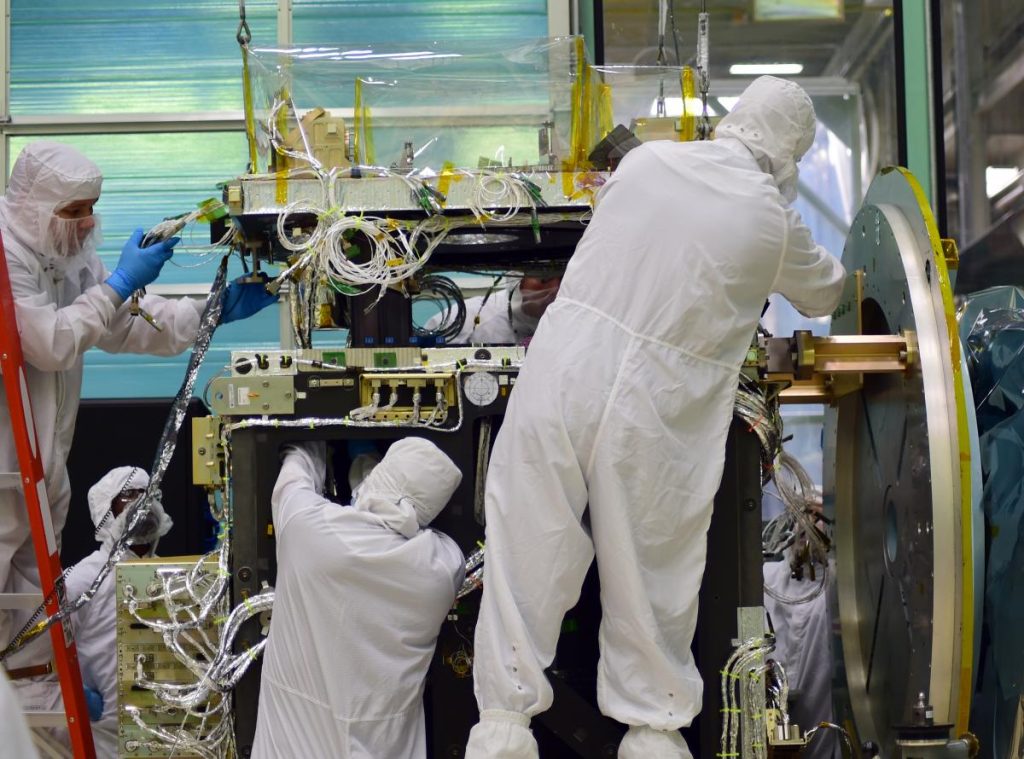 Engineers build and test the Advanced Topographic Laser Altimeter System (Atlas) for the ICESat-2 mission at Nasa's Goddard Space Flight Center in Greenbelt
Why does exci not rely solely on Himawari 8 fire warnings? It comes down to data processing time. "
A full scan of the coverage area is taken every 10 minutes
," says exci COO Gabrielle Tylor. "But processing the data can take up to 25 minutes," Tylor says early detection of wildfires within minutes after ignition by using current satellite technology alone is not possible. Nevertheless, exci's proprietary algorithms enable wildfire detection from space on average in between 10 and 20 minutes over a given area. When this is combined with ground-based camera data, trials in California showed the system could detect 66% of fires within a minute, 95% within 5 minutes, and nearly 100% within 10 minutes, with a near-zero rate of false positives.
End of excerpt.
Afterword from exci
exci's early wildfire detection system is powered by advanced Artificial Intelligence that analyses camera data for the presence of smoke and satellite data to detect heat signatures from fires. exci's AI detects fires from ground-based camera data within minutes of ignition. However, satellites come with their own set of limits when it comes to providing real-time data. While the ground-based camera system provides fast detection during the day, satellites are better suited for
remote and broad area coverage;
night-time detections;
tracking, mapping, and monitoring of a fire,
and providing comprehensive coverage in all weather conditions.
For more in-depth information regarding satellites' limitations in Early Wildfire Detection, check out our blog posts: 
Read more:
Part 1: Satellites in Space: Watching over our Planet
Part 2: History of Environmental Satellites
Part 4: Early Wildfire Detection = AI+Cameras+Satellites
Don't let hazardous events become catastrophic!
Get in touch with our friendly team who are happy to give you a full demonstration of how exci's system detects wildfires within minutes and can help you to protect your assets and community: 
Australia:
Phone: 1300 903 940
International:
Phone: +61 458 594 554
email: info@exci.ai:
Visit us on our website and find out more https://www.exci.ai/
posted by Gabrielle Tylor
exci – The Smoke Alarm for the Bush
exci pty ltd